PVC banners and Vinyl banners and stunning photo realistic printed full colour digital printed banners, posters and promotional signage - affordable one offs and short runs.
As large format digital printing specialists, we can supply the best in custom made bespoke vinyl banners for use in retail, trade, back drops and at exhibitions.
Vivid banners are important in marketing your event,company name or brand
In addition to our custom stickers decals, pop up banners, roller banners and other promotional signage, we can supply custom posters and backlit posters for all your advertising needs.


EXHIBITION TRADE SHOW DISPLAYS - POP UP DISPLAY GRAPHICS:

Pop Up Looking Tired? Changed your Marketing message?
If your existing pop up stand frame is OK why not just order replacement graphics.

These banners are made and printed in our workshop from a high grade outdoor banner material and either printed with the latest ECO solvent inks or made with cut vinyl applied lettering/graphics to produce your PVC Banner. Our pvc banners are supplied with reinforced folded hems and brass eyelets so your new banner is ready hang or to put straight up.

PVC banners (also known as Vinyl Banners)and Digital Print Banners are an excellent and very affordable (either indoor or outdoor) way to promote any event, promotion or business. Banners are ideal for a wide range of marketing activities.Trade shows, product launches, outdoor events, hotels, shops, leisure centres, schools, sports events, museums, marketing campaigns, builders, scaffolding contractors, birthday and wedding banners, and exhibitions.

PRICE GUIDE
| | | | | | |
| --- | --- | --- | --- | --- | --- |
| | | | | | |
| 8ft x 2ft | £49-00 | 8ft x 3ft | £75-00 | 8ft x 4ft | £125-00 |
| 10ft x 2ft | £65-00 | 10ft x 3ft | £90-00 | 10ft x 4ft | £135-00 |
| 12ft x 2ft | £75-00 | 12ft x 3ft | £119-00 | 12ft x 4ft | £159-00 |
| 14ft x 2ft | £89-00 | 14ft x 3ft | £139-00 | 14ft x 4ft | £179-00 |
| 16ft x 2ft | £99-00 | 16ft x 3ft | £155-00 | 16ft x 4ft | £209-00 |
| 18ft x 2ft | £110-00 | 18ft x 3ft | £169-00 | 18ft x 4ft | £229-00 |
| 20ft x 2ft | £129-00 | 20ft x 3ft | £199-00 | 20ft x 4ft | £259-00 |
| 24ft x 2ft | £159-00 | 24ft x 3ft | £219-00 | 24ft x 4ft | £315-00 |
ALL PRICES PLUS VAT & DELIVERY
Types of Banners explained:-
Hemmed/welded and eyeleted Banners. This is the most common finishing as it allows them to be used in many different ways. Some clients will simply want to fix their banner to the nearest fence whilst others to the outer wall of a building or to a portable banner frame .These eyelets give this versatility whilst the hems or welds give added strength for outdoor conditions.
Looped (sleeved) top & bottom Banners. Scaffolding banners. These pvc banners have a loop/sleeve at the top and bottom of the banner. This enables them to be used with scaffolding poles, rods and dowels enabling many options for hanging. Loop size can be to your specifications to ensure that the banner fits for your application. These banners are ideal for building and scaffolding contrators, business owners with scaffolding to promote their business
Trimmed & eyeleted Banners. Sometimes you might not need the additional strength that hems and welds add. Typically, indoor uses do not require this and in these cases the banner is trimmed to size and then eyelets can be applied as necessary. Also banners that are under 18 inches in height do not have welded hems along the top and bottom.
A banner does not usually need planning permission as they are classed as a temporary sign.
Banners do not usually need planning permission as they are classed as a temporary sign.
Banners should be rolled away after use - never wet or damp.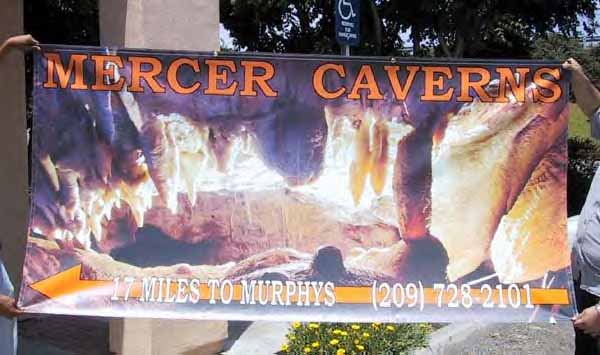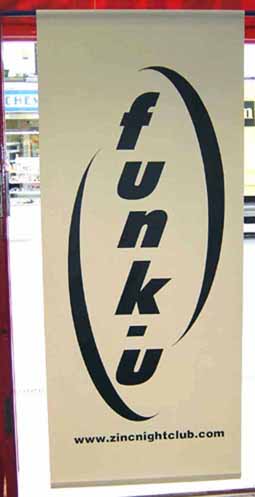 ---
PVC Banners, digitally printed full colour pvc banners, mesh banners, sign makers, signage, outdoor banners, banner printing, banners printed, sports Banners, pitch advertising,perimeter board advertising, exhibition banners,sale banners, motor sport signage panels, company advertising boards, rally signs, street banners, lampost banners, museum banners, local authority banners, birthday banners, pendant banner, promotional banners, banner frames, signs, exterior signs, shop signs, internal signs, vinyl cutting, vinyl graphics, vehicle graphics, vans, van graphics, window graphics, window, display vinyl, display signs, display graphics, magnetic vehicle signs, t-shirt printing,labels, stickers, self adhesive labels, window graphics, garment printing, A-Boards, pavement signs, estate agent boards, shop facias, computer cut vinyl letters, T-shirt Printers, southend-on-sea, Essex.

Signs Estate Agent Boards Magnetic Vehicle Signs PavementDisplay Boards
ComputerCut Vinyl Letters T-shirt Printing


305 London Road, Southend-on-Sea,Essex. SS0 7BX
Tel: 01702 391676

Trading terms:
We will begin work on your job on receipt of authorised payment.Despatch of your finished order is normally within 4-5 working days.Our goods are guaranteed only for their intended purpose and are notwarranted for use in hostile environments or inappropriateapplications. In the unlikely event of there being defects, rejectionsor incorrect orders please notify us immediately.
Delivery
We feel we have chosen the best delivery company, but even the bestcan make mistakes. If your banner/sign is urgent and you have specificdeadlines may we suggest that you ask us to use one of the 'timed',delivery services rather than just 'Next Day', delivery can be at anytime up untill 6pm the next day. If you have not recieved your packagecontact us and we can trace your delivery.
Postal delays and losses do occasionally occur - we can normallychase and check on progress.If you feel that a shipment is overdueplease let us know and we can run a trace.
If you have any further queries or want to discuss a specific project please do not hesitate to
contact us
.