VINYL LETTERING - PRE SPACED SELF ADHESIVE LETTERING

---
Ready-To-Apply Vinyl Lettering & Graphics
Self adhesive pre spaced pvc vinyl lettering and logos for fast make up of signs and for cars, vans, boat names, shop windows, blank signs, house names For Businesses and the Do-It-Yourselfer

MAKE YOUR OWN SIGNS

Our vinyl lettering is available in a wide choice of colours, styles and sizes. All lettering is made from 5 year grade material and comes pre-spaced with quick release application tape for easy fitting (full instructions are supplied with every order) Computer cut pre-spaced self adhesive vinyl lettering that can be used to letter about anything from; shop signs, windows, exhibition panels, vehicles, boats, all types of internal and external signs and personal belongings. Unless requested, all letters will be cut in capitals (upper case) only, if you require lower case lettering, please indicate this on the order. Please let us know if "mirrored" lettering is required on the order for window lettering.

Pre-Spaced Self Adhesive Lettering Up to 23" High x Any Length
Many Colours To Choose From
Over 1,000 Fonts Available
Apply to Windows, Vehicles, Boats, Wood (painted), Metal...
Indoors / Outdoors
Application instructions included

Pricing

Up to 2" (50mm) 30p per letter

Up to 3" (75mm) 45p per letter

Up to 4" (100mm) 60p per letter

Up to 5" (125mm) 75p per letter

Up to 6" (150mm) 90p per letter

Up to 7" (175mm) £1-25p per letter

Up to 8" (200mm) £1-50p per letter

Up to 9" (225mm) £1-70p per letter

Up to 10" (250mm) £1-80p per letter

Up to 11" (275mm) £1.80p per letter

Up to 12" (300mm) £2-35p per letter

Up to 13" (325mm) £2-55p per letter

Up to 14" (350mm) £2-75p per letter

Up to 15" (375mm) £3-20p per letter

Up to 16" (400mm) £3-40p per letter

Up to 17" (425mm) £3-65p per letter

Up to 18" (450mm) £3-95p per letter

Up to 19" (475mm) £4-29p per letter

Up to 20" (500mm) £4-59p per letter

Up to 21" (525mm) £4-95p per letter

Up to 22" (550mm) £5-29p per letter

Up to 23" (570mm) £5-65p per letter
Our Minimum Order value is £10.00 excluding p&p.
Vinyl lettering is available larger sizes than 18" but they will have to be joined.
Text Distortions and Shadows
All text can be distorted or shadowed in one way or another. Here are just a few examples. Please note that stylized writing is double the price of ordinary lettering.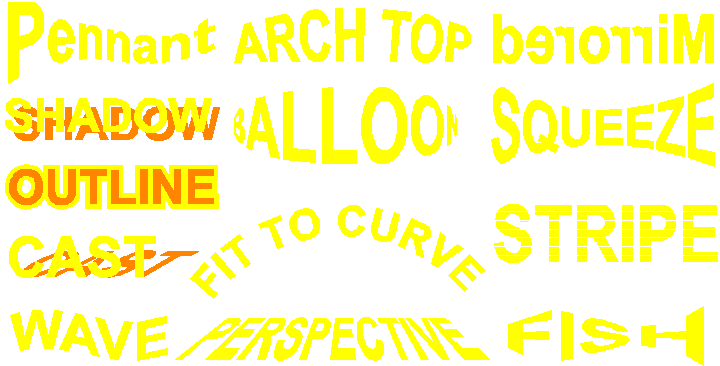 Fonts

Vinyl lettering is ready to apply. The lettering includes an adhesive backing and each letter is pre spaced making it easy to apply without any particular skill. Vinyl lettering is tailor made to suit any requirements. Our graphic design department has thousands of fonts in their font library and will try their best to find the one you want (if you have a font on your pc and it is unusual you can supply us the ttf file). . They will also advise on the best font size to suit a specific area. Vinyl lettering can be produced on frosted vinyl. Vinyl lettering can be printed as reverse print to be applied to the inside of a window and be read from the outside. Vinyl lettering is priced per character with minimum letter size of 20mm.

Please note we have thousands of fonts available, if you require particular style

please send a copy and we will endeavour to match it.(if you have a font on your pc and it is unusual you can supply us the ttf file)
Logo Scanning & Design
A one-off charge is made for artwork to copy your logo to our system. This includes the scanning process and the cleaning up of the image so as to enable us to cut it. A good black & white image is required. you may send a print, eps (encapsulated postscript) or ai (adobe illustrator) file for this please convert to curves. The charge is variable depending on the complexity of the image, but as a guide, a simple logo would be approx £15-00 and a more complex one approx £25-00. We will be happy to quote before starting.
A one-off charge of £25-00 is made for design work, such as commercial vehicle layouts, 50% of which is refundable when the order is confirmed. We will be happy to clarify and discuss this with you by telephone or you can fax/e-mail us with your layout.
Home Page

---
305 London Road, Westcliff-on-Sea, Essex. SS0 7BX
Tel: 01702 430022