Scaffolding Banners and Contractor pvc banners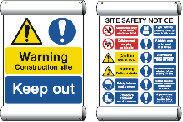 Scaffold Banners - Our scaffold banners are made from the same fire retardant reinforced PVC banner material as standard banners. Instead of eyelets they can have loops top and bottom for easy fixing with scaffold poles.
Scaffold banners and scaffold signs - As scaffold banners and signs tend to be displayed high up, they should have bold minimal content. For the best results they should have the name big and bold, maybe a simple strap line and a couple of bold phone numbers.
| | |
| --- | --- |
| More on PVC banners | |
Contact Us
305 London Road, Southend-on-Sea, Essex. SS0 7BX
Tel: 01702 430022
Fax: 0870 486 9288