PUKKA T-SHIRT PRINTING
FULL COLOUR DIGITAL TRANSFER PRINTED GARMENTS
We are a T-shirt printing company specialising in printing T-shirts. You can design your own T-shirt or a funny novelty T-shirt. For 15 years we have been supplying custom printed T-shirts all over the UK. Whether you want to design your own T-shirt for promotional events or supply words or images for a personalised T-shirt, the finest printing service around. There are no set up costs or screen charges, so you are guaranteed excellent personalised T-shirts at competitive rates, with a further discount for bulk orders. Prompt, reliable service anywhere in the UK.

We can print onto t-shirts, polo shirts or skinny fit tops in all colours and sizes.
Aerobics - Running - Rowing - Fund Raising - Five Aside
Netball - Darts - Football - Cricket - Corporate - Security
Nursery - Stag/Hen Nights - Theater Groups - Favorite Pets
Birthdays - Dance Groups - Advertising
Ideal for small teams or office events Dart Teams - Running Teams - Crew Events - Security - Etc.
---
T-SHIRT'S
Quantity
1-2
3-5
6-10
11-15
16-20
20+
Cost
10.95
9.95
8.95
8.50
8.00
7.50
POLO SHIRTS
Quantity
1-2
3-5
6-10
11-15
16-20
20+
Cost
16.00
15.50
15.00
14.50
13.00
12.00
SWEATSHIRTS
Quantity
1-2
3-5
6-10
11-15
16-20
20+
Cost
17.00
16.50
16.00
15.50
14.50
13.50
CAPS
Quantity
1-2
3-5
6-10
11-15
16-20
20+
Cost
6.00
5.75
5.50
5.25
5.00
4.50

---
Home Page

The above is based on white merchandise printed front or back up to size A4 with no restriction on colour.
Please add £3-00 for further back or front prints up to A4 (A3 +£4-50)
We are also able to originate text and logo for a small charge.
Prices include VAT but not P&P
Please include finished artwork and state position on garment.
Sizes: Small, Medium, Large, Xtra Large and Xtra Xtra Large ( £1 extra)
DISCOUNT FOR QUANTITIES OVER 30 PCS
---
* NO MINIMUM QUANTITY *
* NO ORIGINATION CHARGES *
* NO SET UP CHARGES *

ONE OFF T-SHIRT PRINTING

---
Small quantity Printed onto Dark Coloured T-Shirts
---
Full colour printed T-shirts. No minimum quantity.
Any photo, picture or logo can be printed. Together with or just Text
ONE OFF'S NO PROBLEM


Stag, Hen and Holiday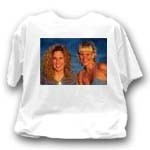 ---