PUKKA POSTER PRINTING
for all your Colour Poster Printing & Large Format needs.
We print in Wide Format Full Colour one off's, short runs for Promotional Posters, Shop window displays, Exhibition graphics, In-Store advertising, Night Club Posters; we will even create big Posters from your favourite Photo.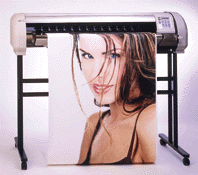 We use the latest technology to produce up to 720x720 dpi with the Mutoh Falcon Graphic Printer using piezo technology
Photo -Realistic printing in three print modes(High Quality - Standard - High Speed)

We provide a fast turnaround, Great Prices and can can courier to the whole of England and the UK.

---
Posters by Mail
Copyright - Please Read!
Send us your favourite Photo or Picture and we will scan it , print it out whatever size you want, on either Plain or Photo-Gloss paper, and Post both of them back to you.
Please Email Pukka Posters with your requirements and we will send, by return email, a full quotation. Please include your full mailing address.
Pre-Scanned images also accepted - please contact Pukka Posters for details of acceptable media.
PUKKA Posters
305 London Road
Westcliff-on-Sea
Essex. SS0 7BX

Tel: 01702 391676

Size
Presentation Paper 95gsm
Hi Res Presentation Paper 170gsm
1st Print
2 - 5 copies
1st Print
2 - 5 copies
A2 (16"x23")
� 9-99
� 9-00
� 12-99
� 10-00
A1 (23"x33")
� 19-99
� 16-00
� 24-99
� 18-00
A0 (33"x46")
� 39-00
� 29-99
� 44-99
� 35-00
20 x 30
� 18.00
� 16.00
� 20-00
� 18-00
Odd Sizes
� 3-00 per sq. ft
� 3-50 per sq. ft
LAMINATION
A1 only �9-00
Home Page
---
Encapsulation; Mounting;
Other Media ... P.O.A.

- Trade Enquiries -