T-SHIRT PRINTING - T-SHIRT PRINTERS
DIGITAL TRANSFER PRINT ON DARK COLOURED T-SHIRTS
COMPUTER TRANSFER PRINTED GARMENTS
---
November 2014 Price List
---
Full colour printed T-shirts. No minimum quantity.
Any photo, picture or logo can be printed. Together with or just Text
ONE OFF'S NO PROBLEM
Full colour prints on dark colours and black t-shirts and garments no problem!

Stag and Hen - Holiday - Event Clothing - Workwear - Clubwear - Present

We specialise in short run,one off, full colour t-shirt printing. We can of course handle any amount of printing but high numbers of t-shirts is cheaper to have traditionally screen printed.
Make sure you and the rest of your crew are properly kitted out for your holiday or stag and hen party.
We could print any embarrasing photo of the stag or hen. Why not put the location of your party on the front and perhaps have your nicknames and numbers on the back. Instead of numbers you could eachhave a large letter on your back, so that when you're all lined up at the bar it will spell out a word or phrase!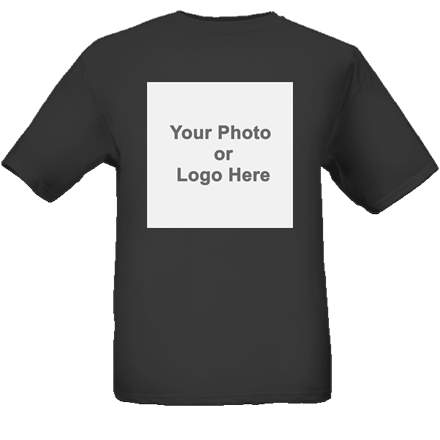 Short runT-Shirt printing onto Black T-shirts and Dark Colours
Plasticol printing onto any colour T-shirts for one off's and short runs. Photos and full colour images on black t-shirts

We can print onto t-shirts, polo shirts or skinny fit tops in all colours and sizes.

Ideal for presents, small teams or office events
Five Aside Football - Corporate - Security
Stag/Hen Nights - Theater Groups - Favorite Pets
Birthdays - Dance Groups - Fund Raising - Advertising
Dart Teams - Running Teams - Etc.

One off t-shirt printing, Custom t-shirt printing, cool t-shirts,funny t-shirts,naughty t-shirts, custom t-shirts,humour t-shirts, t-shirt printing, photo t-shirts, custom tee shirts, custom photo t-shirts, t-shirt printing, design own t-shirts, custom made tshirts, create your own t-shirts
---
T-SHIRT'S
Quantity
1-2
3-5
6-10
11-15
16-20
20+
Cost
10.95
9.95
8.95
8.50
8.00
7.50
POLO SHIRTS
Quantity
1-2
3-5
6-10
11-15
16-20
20+
Cost
16.00
15.50
15.00
14.50
13.00
12.00
SWEATSHIRTS
Quantity
1-2
3-5
6-10
11-15
16-20
20+
Cost
17.00
16.50
16.00
15.50
14.50
13.50
CAPS
Quantity
1-2
3-5
6-10
11-15
16-20
20+
Cost
6.00
5.75
5.50
5.25
5.00
4.50

---
The above is based on white merchandise printed front or back up to size A4 with no restriction on colour.
Please add £3-00 for further back or front prints up to A4 (A3 +£4-50)
We are also able to originate text and logo for a small charge.
Prices include VAT but not P&P
Please include finished artwork and state position on garment.
Sizes: Small, Medium, Large, Xtra Large and Xtra Xtra Large ( £1 extra)

DISCOUNT FOR QUANTITIES OVER 25 shirts as these could be screen printed

You can order by calling us now.

---
ONE OFF T-SHIRT PRINTING

---
---