Pukka - Canvas Printing Service

Imagine your artwork or photographs as fine art canvas prints portrayed in very crisp and vibrant colours. We use pigment based inks to make sure that your canvas prints last a long time without fading. We also put an extra special protection over the canvas prints to make sure it does not get damaged from scratches and splashes. Corners will not fade or crack.

Canvas printing service and large format digital printing from Pukka. We use the latest in canvas printing technology to bring you a professional, high quality, customized, canvas printing service . We specialise in canvas printing and canvas printing, canvas stretching and MDF block mounting for self-publishing artists and photographer-artists.

Canvas printing service and large format digital printing in single or low volume quantities.

Canvas Printing
Your image will be printed directly onto artist's grade canvas. We use a high quality 340gsm matte canvas approved to Fine Art Trade Guild standards. Combined with the Epson pigment based inks, your prints are guaranteed to remain crisp and vibrant for years. Each print is sealed for ultimate protection against scratches and splashes.

Complete your picture by having your print stretched onto quality stretcher bars with our canvas stretching service.

Stretching your Canvas Prints Complete your picture with our new canvas stretching service. Your print will be stretched over a 2 x 2, (5cm x 5cm) thick best quality wooden frame, which is bevelled at a 75-degree angle, solid, mitred, with stretcher wedges.

Block Mounting onto MDF
Add extra depth and dimension to your image by having your canvas, glossy, and semi-gloss photo paper prints mounted onto 18, or 12mm MDF blocks. Gicle Fine Art Printing Reproduce your original watercolour, oil paintings, pastel and charcoal drawings as a limited edition Gicle print on specially coated digital fine art paper. We have a range of textures and densities for you to choose from. The digital fine art range offers a colour intensity and crispness not possible with non-coated art papers. In some cases it's often difficult to discern between the original artwork and the print. You'll truly be amazed at the result.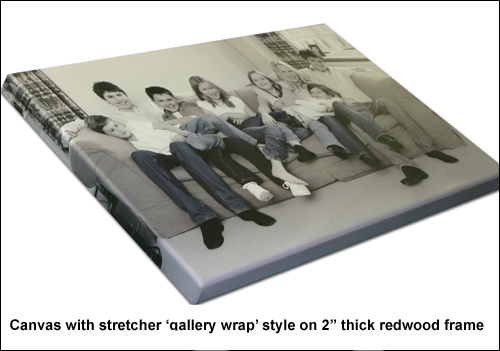 305 London Road, Westcliff-on-Sea, Essex. SS0 7BX
Tel: 01702 391676